Coming Soon: Ads Plugin for Simple:Press
Posted on Feb 21, 2019
We've been hard at work on a new plugin that will help you more easily manage your forum ads inventory. If you've had to resort to child themes to insert ads into areas of your forum, those days will soon be behind you!
The new plugin has a dual hierarchy for displaying ads – Ad Sets are the highest level in the hierarchy followed by the individual ads themselves. While we toyed with adding a third level (Campaign), we decided that would be overkill for most of our users.
Ad Sets
An Ad Set is a grouping of one or more ads. By working with Ad Sets you can use the same location to show more than one ad.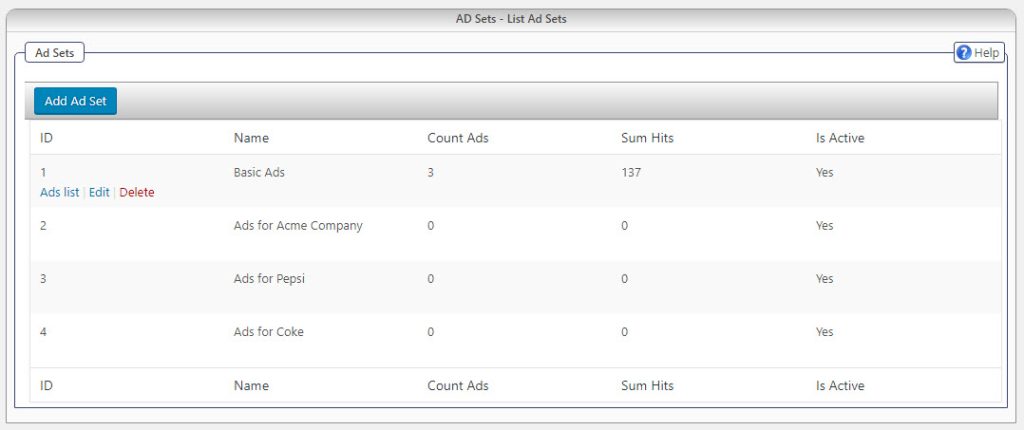 If you've advertised using Google Ads or Facebook Ads, the concept of an Ad Set will be familiar to you.
You can specify the locations that an Ad Set will appear. Ads in the Ad Set will then rotate through in that location. This allows a single location to host multiple ads with each user being served only a single ad at a time.
Ad Set Controls
We've tried to provide you a great deal of control over when and how ads are appear. Take a look at the ad set configuration screen: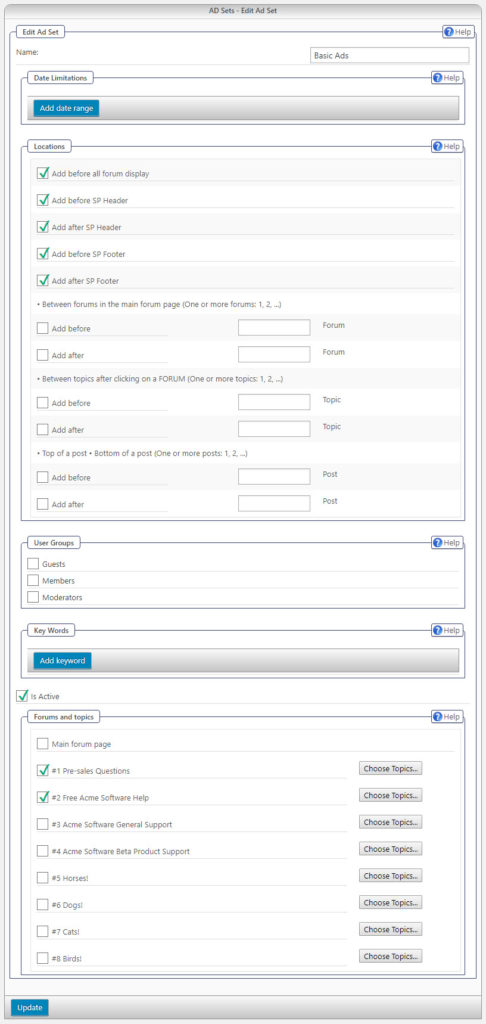 As you can see in the image above, you can control where and when your ad appears. Some of the controls you have include:
Dates – specify when an ad set will run. You can schedule Ads to start at a future date as well as stop on any specified date. If no date range is specified ads in the ad-set will run continuously.
Locations – you can specify where ads run:

Top and bottom of forum pages
Between certain forums in the main forum listing page
Between certain topics in a topics page of a forum
Between certain posts inside a topic.
You can even specify that the ads run inside only a particular forum or topic!

Keywords – you can specify that ads only run when certain keywords appear in a topic.
Ads
Setting up an AD itself is pretty simple – its primarily an editor where you can enter the text/content for an ad.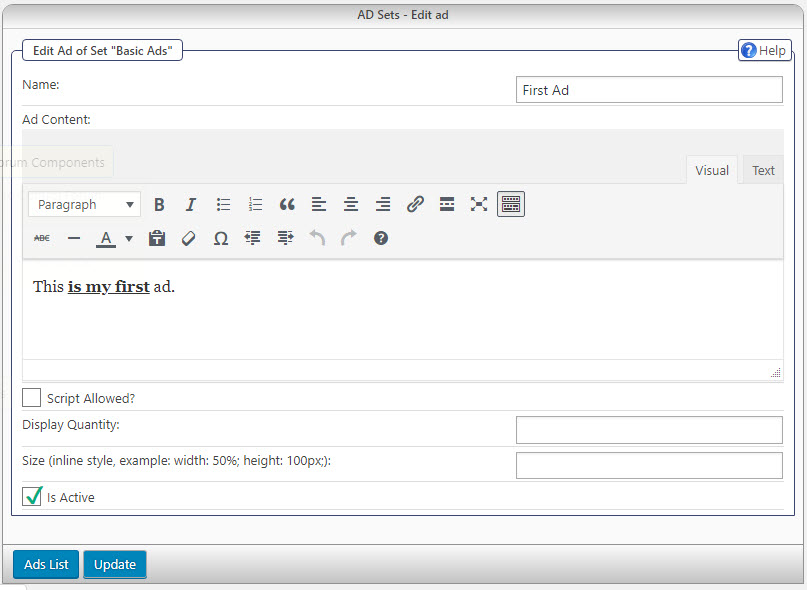 Each ad can have a maximum number of impressions specified – once the ad has been displayed that many times, it will stop being shown to users.
Both ads and Ad Sets have an Active flag that can be used to quickly turn them on/off without losing all the work you've done.
Reporting
We've included simple reporting for each Ad Set: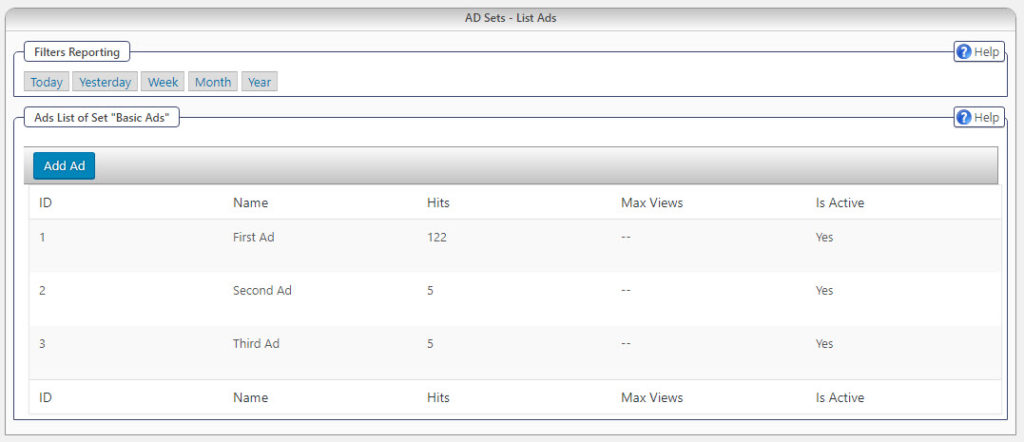 With the reporting screen you can view the number of hits for each by Day, week, month and year. (We did say it was simple!)
Multiple Uses
Even if you don't sell ads on your site, this plugin can still be useful as a sort of super announcement plugin.
You can use it to schedule notices far in advance that will then automatically turn on and off on particular dates. And you can use it to restrict announcements to certain forums and topics.
Feedback And Availability
This plugin doesn't have a release date as yet. We're hoping sometime in the next 60-90 days. However, we would love your feedback on the feature-set. Did we miss something pretty important? Please let us know via the forums or our contact page.