Simple:Press Forums 6.3 Release Notes
Posted on Dec 19, 2019
---
Introduction
The admin area of Simple:Press Forums 6.3 has a radically new user interface. Based on shades of blues and grays, it is more modern looking and better prepares the plugin for the 2020's.
We fully expect that some of you will love it and some of you will hate it. Regardless, you should update your premium plugins to avoid losing functionality. Many premium add-ons had to be updated to comply with the new Admin UI infrastructure.
Most of the basic admin screens will look similar to the following:
But, many will differ of course. For example the user group and permissions screens:
---
We fully expect that there will be some hiccups and growing pains as we shake this down in the wild. So let us know in our forums about anything you find!
Troubleshooting Tips
When you're upgrading, you might need to clear your browser cache to make sure that you get the most up-to-date JS and CSS scripts. To do this just press the CTRL-F5 key combination in your browser and it should clear the cache for most websites.
If you click on an element and it doesn't respond, check in your browser's Javascript console to see if any errors are showing up there. Errors in that screen can be a good indication that the Simple:Press plugin is conflicting with something else.
All-in-one Premium Plugin and Theme Installer
Along with the new administration screens, we've released a new way for users of our Silver, Gold and Platinum bundles to upload their plugins. In the past, admins had to upload plugins one at a time. Even if only half of the premium plugins are used, that was a ridiculously tedious process.
So, with this release of Simple:Press Forums, we have a new plugin called, simply, premium-installer.
Upload this single plugin and all our premium plugins and themes will be installed.
When updating, all you will have to do is update this plugin and all other plugins and themes will be updated.
And, you only have to install the license key into this single plugin. You can ignore any other license key prompts.
When uploading and activating this plugin you do need to be patient. It is a large file and, when installing, it will be installing thousands of tiny files.
Finally, this plugin only installs the other premium plugins and themes. You still need to activate the ones you want.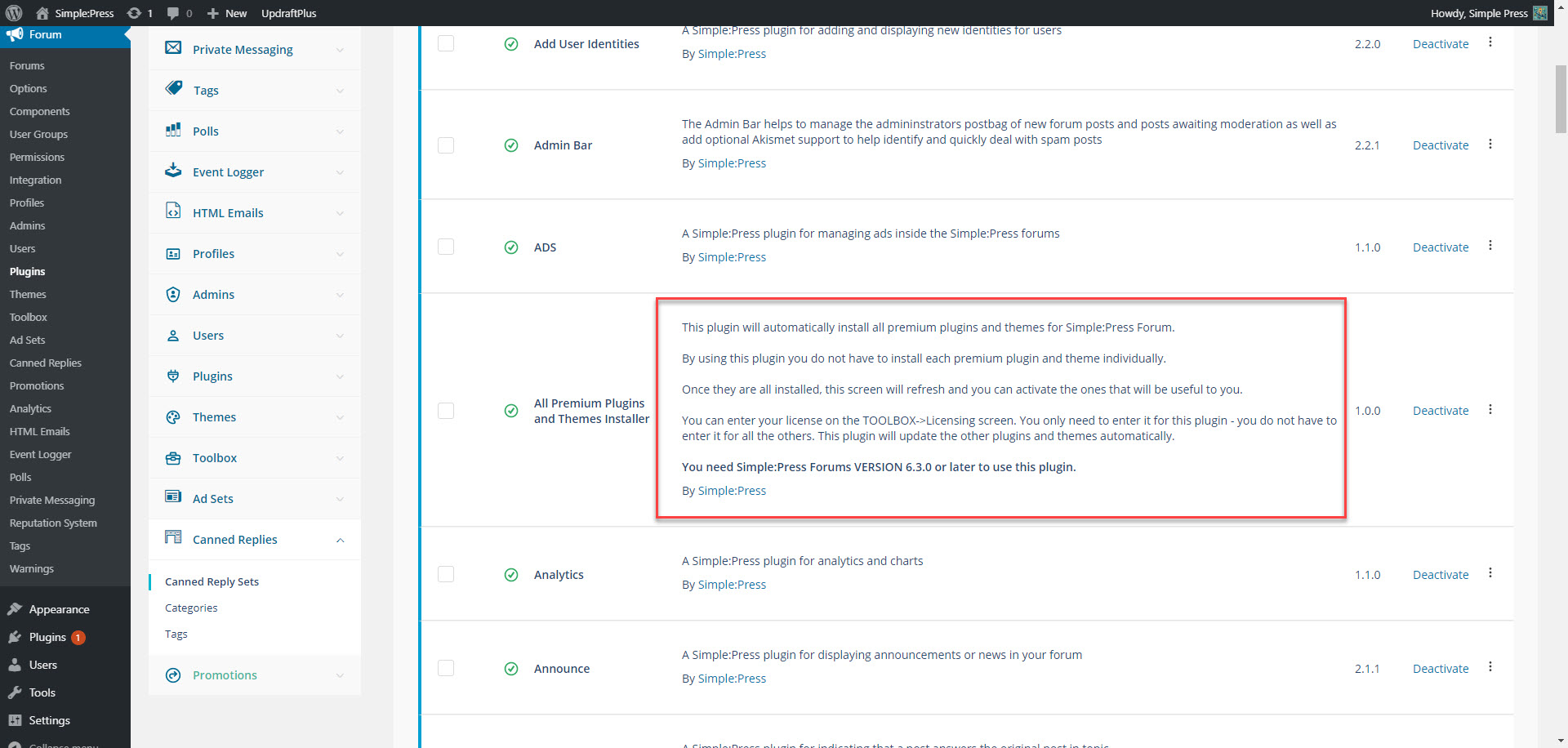 To get this plugin, just go into your account and download it. The exact steps are:
Login to your account
Click on the DOWNLOAD HISTORY Tab on the left side of your account page
You should see a premium-installer link next to your Silver, Gold or Platinum purchase.
Known Issues
The help buttons and icons are funky. They sometimes work and sometimes don't. We're looking into it.