Maintenance Mode
Put your forum – and not your whole website – into Maintenance Mode
Everything needs a little maintenance from time to time. Maybe it's time to prune a few topics or a forum. Perhaps test out a few theme rearrangements or – indeed – try out a new Simple:Press theme completely, Next time you need to perform some housekeeping and need to let your users know that things are going on you can display an appropriate notice by putting your forum into maintenance mode. The plugin comes with an admin option to set the message the user sees when the forums are placed into maintenance mode: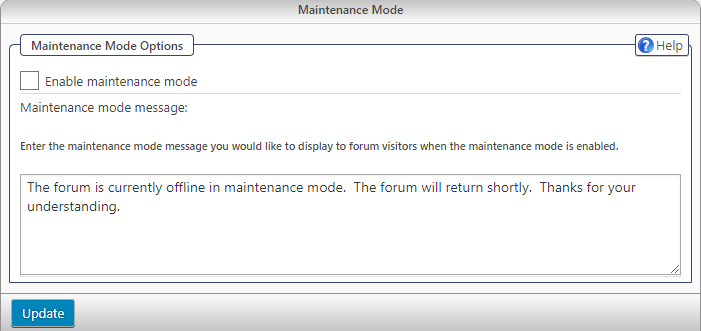 When the user visits the forum they will see something that look similar to this:

In the above example, we use some minor HTML code to provide a red border and some padding. But you can get as fancy as you like of course and create a message that really reflects your brand.