Post Ratings
Give your Users the power to Rate Posts made by other users.
Using the ever popular and familiar stars or thumbs rating mechanics, Post Ratings will allow your users to rate forum posts. Within a topic the ratings will accumulate to display a topic average for the community to see when browsing.
Post Ratings keeps it simple with just one option to change between stars and thumbs, as the functionality extends into other areas of the Simple:Press admin.

You will have the ability to enable or disable post ratings on a forum to forum basis: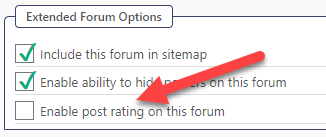 And you will be able to enable or disable the ability for a user to participate with added permissions: