Simple:Press Version 6.1 Now Generally Available
Posted on Apr 12, 2019
Simple:Press 6.1 was released to the wordpress.org repository earlier today. Included are a few bug fixes and some minor new features. Check out the details about these below.
New Admin Input Type: Editor
We've started to convert certain fields in the admin area to use a full editor. The first fields that are enabled with this new function are the custom message announcement fields:
Additional Custom Message Field
We've added a second custom message field. With this you can now have a separate custom message for NEW TOPICS and NEW POSTS.
Radio Buttons In The Admin Area
Radio buttons in the admin area now look like radio buttons. Before, they looked like check-boxes so you could never tell the difference until you actually tried to use them.
Identities Update
We've removed identities that no longer exist. Removed items include
AIM, Yahoo IM, ICQ, Google Talk, MSN and Myspace.
However, we did not remove the data from the database. So if an admin wishes that these identities remain visible in the user profile, we have provided a new admin option to do just that. Located in the FORUM->OPTIONS->MEMBER SETTINGS screen, it looks like this:
As a result of this change the new profile screen identity tab is now significantly shorter: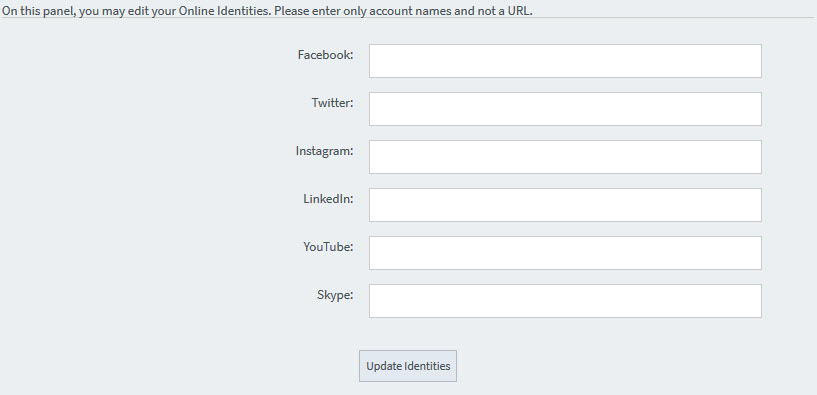 New Identity: Instagram
While we have a plugin that allows the admin to create and use any number of custom identities (Add User Identities) , we decided to add the Instagram identity to the core plugin. We were removing old ones afterall so why not add one of the most popular ones?
New Licensing Screens
We have started the process of requiring license keys for premium modules. Thus, we have a new licensing screen under FORUM->TOOLBOX->LICENSING.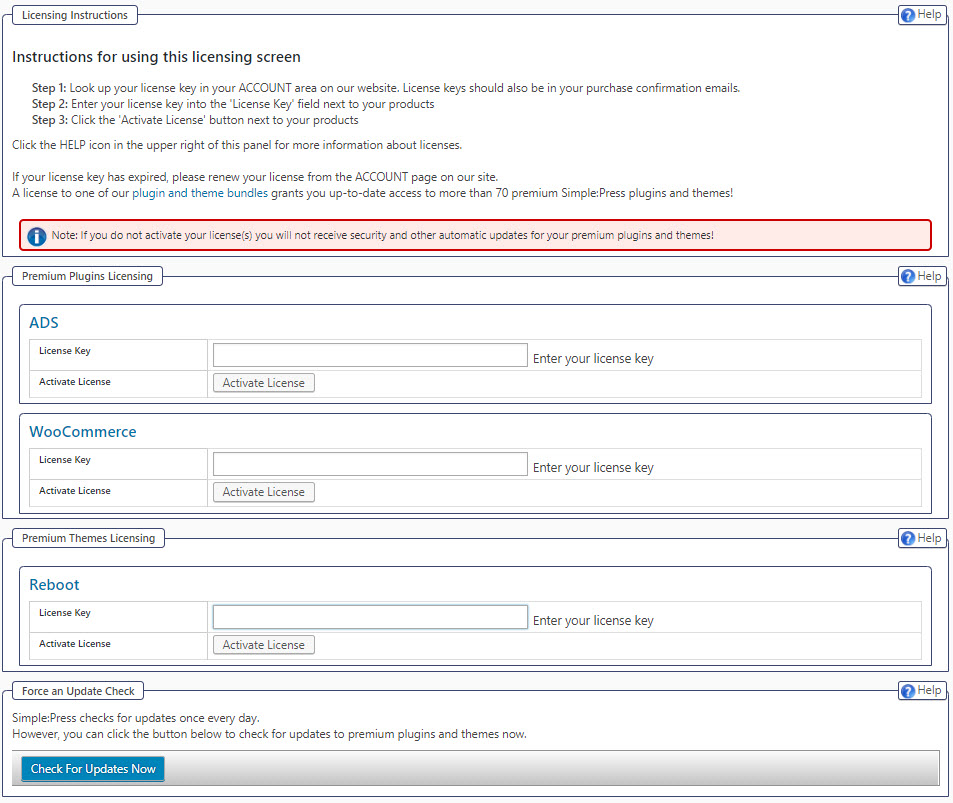 Premium plugins and themes will be updated to use the new licensing screen. Given the number of these we have it'll take us a while to get them all done. So we'll end up having a mixed licensing model for a few months or so.
Users can retrieve license keys in their ACCOUNT screen. For most users, there will be one "all access" license key that will need to be entered into every active plugin or theme.
Automatic updates will not be possible if a plugin or them is inactive or does not have a license key that has a current valid subscription.
Bug Fixes
G0000: Update the text for the customization service on the help and troubleshooting page.
G0036: Fix plugin library link on help and plugin page.
G0012: Fix pricing plan link on help and plugin page.
G0011: Fix theme library link on help and plugin page.
G0007: Radio buttons should look like radio buttons in the admin area.
G0004: URL for Premium Support link on plugins page is incorrect
G0005: URL for Documentation link on plugins page is incorrect
G0003: Move post to existing topic not working
G0002: Move post to new topic form css issue
G0001: Fix Malformed changelog url
G0000: Spelling and grammar related changes to help files for the FORUM->COMPONENT->CUSTOM MESSAGES screen
Internal (Dev) Changes
G0000: Added new function to allow editors to be painted in admin
G0000: Added new function to allow date pickers to be painted in admin – utilizes the JqueryUI Date Picker library from WP.
Wrapup
We'll likely be pushing this update to early release status sometime within the next 30 days. If you would like to give it a whirl now, just drop us a note via our contact form. Or if you want to give one of our new plugins (Analytics or Ads) a try, you will also need to contact us to use this new version.