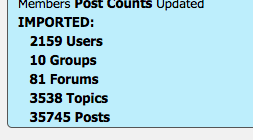 As you can see - went through first time - no errors. I believe we got it all as well. But - I was surprised at how long it took for what was, as you said, quite a small database. I think it is likely that what you have there is a timeout - at least that is the only likelihood I can come up with. All the data constructs look just fine.
The importer tool rally does need rewrite - it is just pretty low on the priority list at the moment. But it does try and do too much in each session if there are many, many topics in a forum. So I think that is the problem.
Do you have a local and up to date version of your website because that should get through it OK. Else forcing a much longer and temporary timeout in the server might do it but that might still be pushing it.